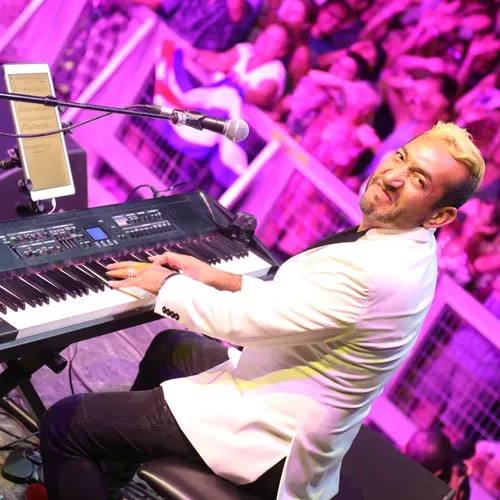 CHRISTIAN TUMALAN
PIANO EDUCATOR, COMPOSER AND PERFORMER
Grammy award winner for his works as a pianist and co-leader with the Pacific Mambo Orchestra in the Latin tropical category.
17 years of teaching experience.
Collaborations With Latin Artists:
Tito Puente Jr., Herman Olivera, Orestes Vilato (Fania' Percussionist), Ismael Miranda (Fania Singer), Ray De La Paz, Tony Vega, Nora Suzuki, Rob Blades, Los Adolescentes Orchestra, Charlie Aponte (El Gran Combo Singer), Danny Lozada (La Charanga Habanera Singer), Benny Velarde, La India, Tony Vega, Johnny Rivera, Domingo Quiñonez, Louie Romero (Celia Cruz Timbalero), Tito Nieves, Frankie Negrón, Maelo Ruiz, Ray Sepulveda, Pedro Brull, Eddie Santiago, Tito Rojas, Michael Stuart, Willie Torres, Carlos Cascante, Frankie Vazquez.
Collaborations With Jazz Artists:
Arturo Sandoval, Sheila E. (Prince), Pete Escovedo, Giovanni Hidalgo, Jon Faddis, Dafnis Prieto (Michel Camilo), Kenny Washington, Karl Perazzo(Carlos Santana), Alex Acuña, Michael Spiro, Jeff Chambers(Dizzy Gillespie), Calixto Oviedo, Poncho Sánchez, Tommy Igoe, Wayne Wallace, John Santos, Eddie Marshall (Stan Getz') Bill Watrous (Quincy Jones), Alex Britti.
DOWNLOAD THE APP FOR FREE!